First of Its Kind Zipline Coming to Lansing Michigan
September 27, 2016 by GreenCharlie
The zip line, long a favorite of the outdoor adventure type, is getting a decidedly urban makeover.  The city of Lansing Michigan is close to approving what its developer says will be the first downtown zipline in the state.
If developed the zip line will begin in the Adado Riverfront Park north of Saginaw Street.   The 400 foot ride will take riders over the Grand River.   If the city council approves the proposal, the developers of the project will have 18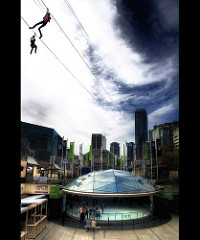 month to raise the required funds and begin construction.  The goal is to have the attraction open by early 2018.
Comments
Comments are closed.